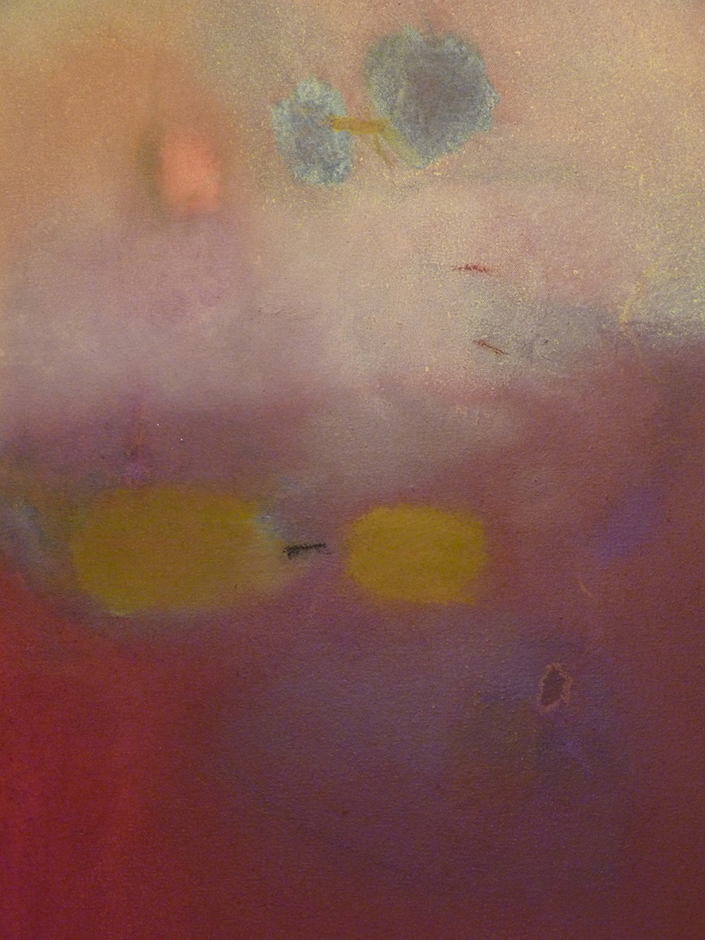 ARTIST'S STATEMENT
How and what I paint reflects the influence of painters and painting movements of the mid-20th century. Early on, Abstract Expressionism encouraged me to seek what was authentic for me; the Post Painterly Abstractionists attracted me because of the demanding and monumental quality of their work. Milton Avery's paintings, which do not fit these contemporary categories, influence and challenge me most of all through their quietly confident composition, gentle clumsy quality, and inspiring color combinations. His paintings opened up a whole world of color for me. More recently, I was lucky enough to see a show of Richard Diebenkorn's New Mexico paintings. Those paintings make me want to paint!
My approach to painting evolved during more than a decade of making clay sculpture. When working with clay, I was fascinated with the innate qualities of the material itself. I used color in the form of sprayed oxides to accentuate its form and tried not to interfere with the clay's natural behavior when manipulated. I valued the porous texture of clay in its raw and low-fired state. I also worked with natural processes such as sawdust firing. This way of working was one of relinquishing some control over my medium. I believe this allows a release of energy to be captured in the work. It allows the strange beauty of the world to be shown, even the necessity of what is considered "bad or ugly," the possibility of existence without pretense.
I paint with oil because I find the color to be luscious and rich. I often pour or rub the paint because that feels like the most natural way of working with it. This results in nuanced color and accents of surprise, which I enhance with line and bright colors. Design is kept to a minimum, revealing an unpretentious and meditative experience.
BIOGRAPHY
Catherine Suttle was born in Lexington, Kentucky, and moved to Knoxville, Tennessee, in her early teens.   She received a master's degree in ceramic sculpture from the University of Tennessee, Knoxville and affiliated Arrowmont School of Arts and Crafts in Gatlinburg, Tennessee.  During this time, she taught beginning ceramics to adults and college students at the University of Tennessee non-credit and undergraduate programs.
After graduation, she worked as a studio artist in Knoxville for many years and exhibited locally and across the state. She also helped found a cooperative art gallery, 200 East, in downtown Knoxville.
Catherine returned to graduate school in 1988 for an M.B.A.  She took a job with Merck and Co., Inc., in New Jersey where she lived and worked for sixteen years. Catherine currently works for the Hunterdon Land Trust managing its parkland home and Farmers' Market at the Dvoor Farm in Flemington, New Jersey.  This part-time work leaves time for friends and painting.
EDUCATION
May 1989: M.B.A. with concentration in Logistics, University of Tennessee, Knoxville
June 1980: M.S. in Art with concentration in Ceramic Sculpture, University of Tennessee, Knoxville and Arrowmont School of Arts and Crafts, Gatlinburg, Tennessee
June 1974: B.S. in Psychology and Social Sciences, University of Tennessee, Nashville
TEACHING/PROFESSIONAL EXPERIENCE
Handbuilding, Exploration of Technique & Color: Kissimee Pottery, Frenchtown, New Jersey
Beginning Ceramics: University of Tennessee non-credit program, Knoxville, Tennessee
Internship: Arrowmont School of Arts and Crafts, Gatlinburg, Tennessee
Graduate Assistantship: University of Tennessee undergraduate ceramics program
Founding member of 200 East Cooperative Gallery, Knoxville, Tennessee
EXHIBITIONS
2007 to present
The 82
nd
Phillips Mill Art Exhibition, Phillips Mill Community Association, New Hope, Pennsylvania, 2011
Paintings and Tiles, joint exhibition with Talia Delone, Peggy Lewis Gallery, Lambertville, New Jersey, 2009
The 80th Phillips Mill Art Exhibition, Phillips Mill Community Association, New Hope, Pennsylvania, 2009
The 78th Phillips Mill Art Exhibition, Phillips Mill Community Association, New Hope Pennsylvania, 2007
1980s
Two Person Show, 200 East Cooperative Gallery, Knoxville, Tennessee, 1984
"The Early Eighties," Tennessee State Museum Art Purchase Competition and Exhibition, Nashville, Tennessee, 1982
"Four Artists In Search of an Exhibit," Jackson Avenue Gallery, Knoxville, Tennessee
Continuum II, Dulin Gallery of Art, Knoxville, Tennessee, 1980
"Familiar Signatures" Ceramic Invitational, Arrowmont Gallery, Arrowmont School, Gatlinburg, Tennessee, 1980
Graduate Thesis Exhibit, McClung Museum, University of Tennessee, Knoxville, Tennessee, 1980
Second National Paper and Clay Exhibition, Memphis State University, Memphis, Tennessee, 1980
1970s
32nd Annual Students' Art Exhibition, McClung Museum, University of Tennessee, Knoxville, Tennessee, 1978
William Finger Memorial Exhibition, Art Department Gallery, University of Tennessee, Knoxville, Tennessee